LA BRASSERIE DU PLATEAU
In reference to the Plateau de Millevaches, this brewery called its beer "La 1000"! At the head of this brewery Zoé and Christian, their motto "Since we have not been able to remake the world, we make the drink around which we remake it with fiends!". The beer is produced in Aubusson, where you can buy it in their shop "La Capsule". A selection of blonde, white, amber, dark, red or Christmas are available and also homemade lemonades, tasting, group visit and explanation of the brewing process.
Learn to brew your beer "La Brasserie du Plateau" proposes courses throughout the year.
---
13 A rue Jules Sandeau in Aubusson
Phone 05 55 67 51 37 or 06 66 37 10 00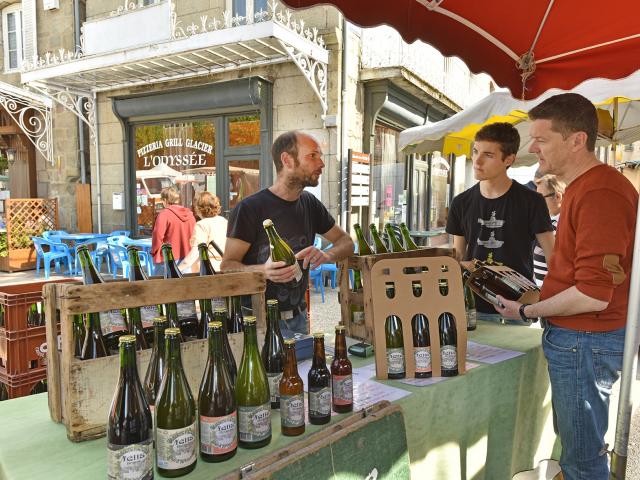 LA BRASSERIE DE LA CREUSE
According to legend, the village of Felletin takes its name from Félis, a pagan goddess ot the fern and the Tin river which flows through the village. The spring water flowing here is the essential element for quality brewing. Whether blonde, brown or amber, this unfiltered beer on lees is naturally cloudy. Alessio and Rebecca were inspired by Czech beers, its natural ingredients are barley malt, hops, spring water, yeast and cane sugar. "La Brasserie de la Creuse"  drink it fresh!
---
11 rue des Ateliers in Felletin
Phone 05 55 67 58 14
BRASSERIE LA 23
Blonde, amber, white… "La 23" is an organic beer and 100% from the Creuse! Heading this artisanal micro-brewery, we find three passionate friends. Cécile, Marie and Rémi who after more than 150 trials gave birth to their first two beers. In their productions we obviously find barley cultivated and harvested by them as well as spring water from the Plateau de Millevaches.
---
Murat in Vallière
Phone 06 82 42 91 90