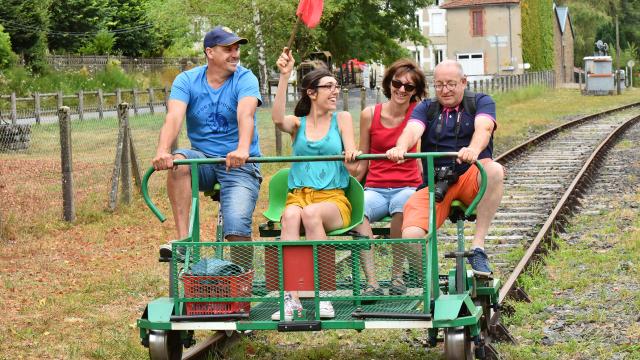 Sliding on the rails, a unique experience in Creuse
A sporty and family ride on a 10km round trip.
You will discover in the middle of unspoiled nature, along the Thaurion valley, an old abbey, horses grazing peacefully, and an arrival on the towers of the castle of Bourganeuf.
1h30 walk with family or friends.
On the day of departure, we are separated into groups of 4 people (or 5 if there are children). I spontaneously chose to put myself with two athletes (who have a little more endurance than me) and … I didn't regret my choice.
We sit in our respective vehicles, a sort of car without carcasses, and we leave a few minutes from one another. "Oh go on then, I'll try the pedals!". Yep, why not, finally it doesn't seem that complicated! We pass under bridges, cross the bison park, along the Thaurion… No need to steer, you just have to pedal, which leaves you to observe the surroundings.
A few hundred meters … everything goes well and suddenly, we start a descent … wow! What a feeling ! With my hair in the wind, the metallic clicks of the vehicle on the rails, I feel like I have nothing under control! And then it climbs upwards again quietly, at first using the momentum of the descent then you have to pedal, pedal, pedal … that's where I gave up my seat!
The arrival on the outskirts of Bourganeuf is magnificent and presents the medieval city from a new angle … The Zizim tower is there, prestigious, surrounded by the buildings of the former commandery. This is as far as the course goes, time to pedal back. Everyone arrives! The carriage must be turned using a mechanism set up for this purpose. It's really a moment of sharing and conviviality. The first arrived help the last in the maneuver and … the whole convoy heads back, in the opposite direction.
Here we are at Bosmoreau les Mines station. We take advantage of the refreshment bar to quench our thirst and nibble while exchanging our impressions. We have just followed the coal transport line, operated at Bosmoreau, to Bourganeuf (10km there and back) and suddenly, we really want to know a little more. Before leaving, a quick tour of the Mining Museum allowed us to shed some light upon that history!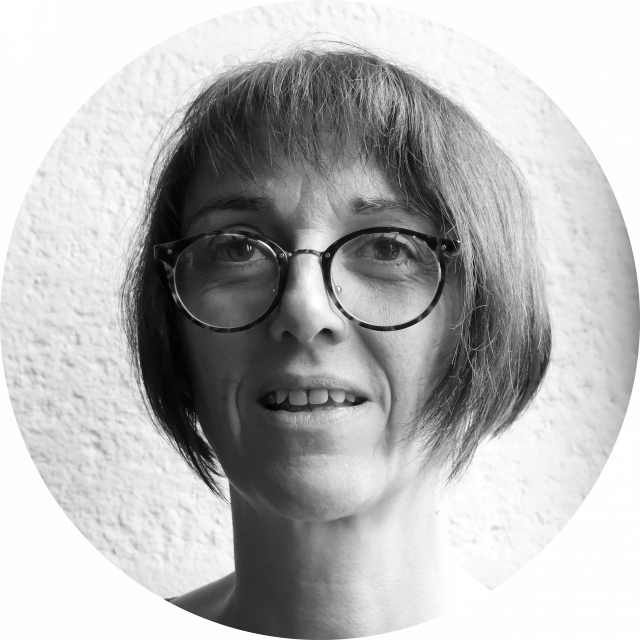 My friends know it … I am not considered "athletic" even if I do myself violence at the weekly gym session! So when my friends proposed a rail-bike trip, I was divided between wanting to live this unusual adventure, and having to make too much effort. My curiosity won… I was up for it!
Practical informations :
Price for 4 rail-bike for 4 or 5 people : 25 €
Vélo-Rail
From the first of April to the 31 of May and from the first of September to the first of October
Departure : 10:30 am / 2:00 pm / 4:00 pm all days
June to August
Departure : 10:30 am / 2:00 pm / 4:00 pm / 5:30 pm all days
Booking is recommended
Phone : +33 6 72 24 81 97 – +33 6 08 89 67 11