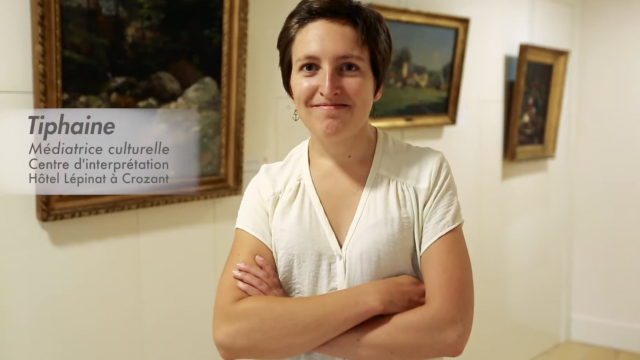 Can you tell us what defines your life philosophy?
"Nsimply sail on sight"
How did you get to Creuse?
"I've known Crozant since I was a child because, with my brothers and sister, we would always come and spend a few days there during school vacations to meet up with cousins. In 2014, I came to stay with my grandparents for what was supposed to be a short period of time, and then I started working at the Hotel Lépinat. First as a seasonal, then as a mediator, and finally I stayed. We're as good here as anywhere else, and I'm happy to see that more and more people are discovering life in Creuse in turn."
Can you give us some details about your approach to your job, your contact with the public?
"Cultural meditation in a place like the Hôtel Lépinat requires persatility, and that's the whole point of this job.During the winter, when the museum is closed, I spend weeks preparing for future exhibitions, and I love that. From historical research to the realization of the materials, including the writing and communication phases, I am involved in every step of creation. The actual mediation starts once the new exhibition is installed and the summer season is underway. I then leave my office to be in contact with the public. Over the years, I have learned to work with different visitor profiles: schoolchildren, hiking groups, families.The speech adapts to the person you are in front of, as well as to the nature of the intervention. With the public, I do tours, workshops, lectures and content creation on social media. If there is one thing to remember when navigating these different activities,it is curiosity. You have to stay informed about your topic so you don't have a fixed narrative, learn as much as you can, do your own research, get inspired by what others are doing… Only in this way can you then synthesize the information and mediate.With the Painters' Valley, we are lucky enough to be able to address many themes and it is a story that still has a lot to reveal. It's exciting to be able to share it with students and visitors.Beyond the work of animation, the mediator's role is also to make the link between tourists and other service providers in the territory. I have as much fun informing and orienting people passing through, as I do chatting with an avid collector."