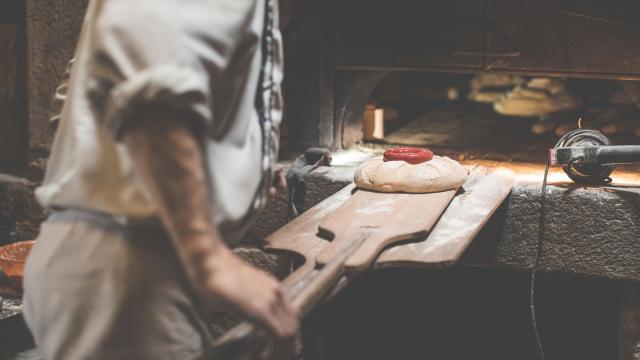 What is your job, your activity?
I am an educational and if possible cultural baker. Indeed, what is important for me is to present the bread, the way to work it but also the place, this magnificent bread oven of the island of Vassivière. I like to answer questions, enhance the site, the heritage of the island.
Why this choice, tell me about your background:
I come from the social field and I also have an experience in tourism. I have a bread oven at home and I am passionate about this tool. So I wanted to learn how to make bread and master my oven. Moreover, from my past experiences, I always had this desire to transmit, to communicate, to share and I think I understand the expectations of the customers. The profession of baker goes far beyond making bread; for me bread is an artistic, educational medium, it is a true craft.
How long have you been based at Lake Vassiviere:
I started on July 2, 2013. One day, I was called to offer me to make bread on the island and when I saw the oven, this unique island, I fell in love at first sight.
Why the choice of Lake Vassivière:
In fact, I didn't know the island of Vassivière, and to tell the truth, I wasn't particularly attracted by this site which seemed a little too artificial, too much "tourist showcase", which doesn't really correspond to my state of mind. And then, after a year of learning my trade, when I saw this oven, I wanted to show it to people, to move them as I myself was moved. At the beginning of the adventure, I gave 200% to make this place live and share this experience which combines all my former jobs (educator, artist, tourism). The outcome, for me, would really be the sharing of skills around the island's oven. For this I am thinking about a more complete project around this unique place.