Activity presentation
It is on a8,000 m² outdoor field that you will have the opportunity to share a moment of relaxation, team play, thrills and have the pleasure of getting together to let off steam in the middle of nature! Between the various obstacles, it is up to you to foil the strategy of your opponents to take away the victory!
Creuse Paintball offers you the practice of this sport accessible to all, young and old in the small village of Meyrat, located in the commune of Sainte-Feyre in Creuse, 10 minutes from Guéret, 1 hour from Limoges and 45 minutes from Montluçon.
So come and discover this activity and make the full of adrenaline on a playground specially arranged for your greatest pleasure!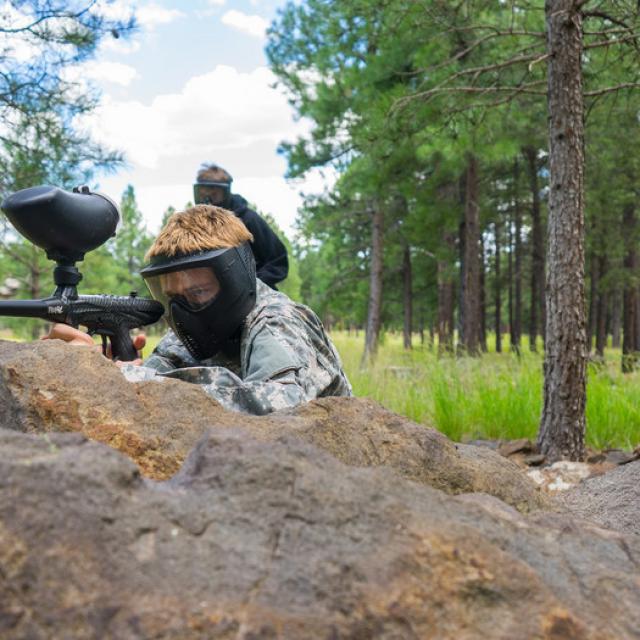 Prices 2022

Teen/Adult launchers
Pack of 200 marbles: €25
Pack of 500 marbles: €35
Pack of 800 marbles: 45 €
Pack of 1000 marbles: 50 €
Pack of 100 additional marbles:5 €
Children's launchers
Pack of 100 marbles: 15 €
Pack of 200 marbles: 20 €
For equipped players
Field access: 1/2 day: 10 €
Field access: 1 day: 15 €
Discount of 5 € per teen/adult pack for -18 years old / students.
All packs contain:
A pitcher
A mask
Protective faceplate
A pair of gloves
Free drink for groups of more than 15 people.
Practical information
Accessible from 8 years old.
Open 7 days a week by reservation only. Possibility of travel to animate any event.
Payments accepted: Check, cash or CB.
Number of players maximum: up to 20 players can play simultaneously.
Pets accepted.
Contact
Creuse Paintball
Meyrat
23000 Sainte-Feyre