Discovery descent of the Creuse River
⚠️ Attention! The canoe descent depends on the water level of the river. The canoe descents are not maintained in case of insufficient water level.
Navigate on the waters of the Creuse River thanks to the canoe descents organized by the Station Sports Nature. You will discover breathtaking landscapes! The canoe descents will make you navigate 6 km between Génic and Jouillat for about 2 hours. You will also have the opportunity to cross 2 weir crossings.
From now on, participate in the canoe descents between Glénic and Jouillat, every Sunday(June) from 2pm to 5pm.
On reservation only at 06 37 88 15 77.
Request for groups: 06 32 95 30 43.
Price: 12 € per person.
Meeting at 1:30 pm in Glénic. (From 7 years old accompanied by an adult).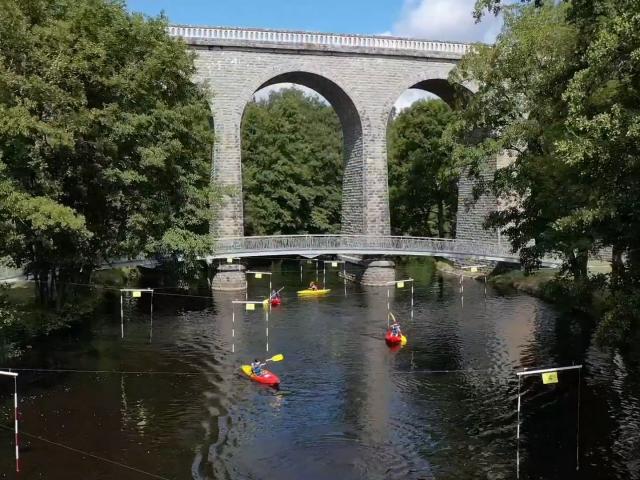 Book your Canoe Culture outing online
You can book your outing for the Canoe Culture activity directly online using the booking engine below. Simply select the date of the activity to access the booking. Please note that the dates mentioned in green correspond to the opening periods of the Canoe Culture activity.
Requirements
Be able to swim 25 meters
Be in good physical condition
Be over 7 years old.
Minors must be accompanied
Equipment to bring
Water
Sun protection
Closed shoes
Cap, t-shirt, change of clothes
But also
The canoe rental is also possible under the arches of the Glenic Viaduct during the 2022 summer season. More information at 05 55 52 14 29 or 06 37 88 15 77.
A multitude of nautical activitieswill be offered to you on the base de loisirs de Courtille in Guéret during the summer period: rental of pedal boats, windsurfing, optimist, catamaran and paddle.
⚠️ Attention! To consult the quality of bathing water as well as the possibility of practicing water activities on the various leisure bases, do not hesitate to contact the Tourist Office of Greater Guéret at 05 55 52 14 29.